Discover more from Brent and Michael Are Going Places
The adventures, insights, and travel tips of a gay digital nomad couple exploring the world. A "Substack Featured" Newsletter! Also seen on CBS Sunday Morning and CNN.com.
Over 4,000 subscribers
My Quest for the Secret of Thai Cuisine, Part 1
I wanted to learn what makes this cuisine so good. And I did.
For the audio version of this article, read by the author, go here.
After traveling continuously for six years through some forty different countries, Michael and I have tried a lot of different cuisines. And almost everywhere, we've found at least one thing we loved to eat.
So far, my favorite cuisines have been Georgian, which I've long predicted will one day sweep the world as the latest "trendy" fare, along with Italian, Mexican, and Thai, which are all fairly or very different from the American versions I was used to.
That said, Thai is good in a way that's different even from these other great cuisines. The flavors are amazing — the sour soups, the spicy stir-fries, and the zesty meats.
But authentic Thai cooking can also be a bit off-putting. Sometimes things are ridiculously spicy — indeed, some of these dishes are among the spiciest in the world. And there's occasionally a flavor or ingredient I can't place and don't like.
It can also be a bit intimidating to a Westerner like me. It's like jazz music: something I enjoy, but that I also sometimes feel stupid and a little inadequate about since I'm not "sophisticated" enough to appreciate it better.
I've long wanted a better understanding of Thai food, but I didn't know where to begin.
Then came Michael's and my latest trip to Thailand — to Bangkok, no less. It seemed like the perfect opportunity to finally figure out exactly what I'm tasting in Thai cooking — and learn the reasons why the food is so good.
What's the secret to Thailand's culinary success?
Here's how my search for the secret of Thai cuisine went down.
Michael and I first lived in Thailand back in 2019. The plan was to meet old nomad friends on the island of Koh Lanta, and while we weren't crazy about the island itself, we loved spending three glorious months with our friends — and making some new friends along the way.
By Western standards, Thailand is inexpensive. Even in Bangkok, it's easy to get a full restaurant meal for $8 USD or less per person (including drinks, taxes, and the occasional service charge — there is no tipping), and there's street food everywhere for $1-3 USD per person. The Thai are known for eating many meals out. In fact, many apartments have only a partial kitchen, or none at all.
On Koh Lanta, Michael and I immediately loved the food, especially the pad thai made by the friendly local street vendor, Mr. Pad Thai. Our freshly-cooked dinners would come wrapped in wax paper, and we usually ate it with chopsticks on the nearby beach.
Like almost every visitor to Thailand, I was struck by the flavor of the food, and also the incredible variety and quality. We'd been living in Thailand for more than a month before we finally had a bad meal.
"Oh, right," I remember thinking. "Sometimes restaurants are bad."
But there was definitely that spiciness, and an occasionally strange flavor, and man, all those options on the menu I didn't recognize — and didn't dare order.
Upon arriving in Bangkok last month, Michael and I picked up right where we left off before, eating our way through the city with great abandon.
At Bangkok Seafood, I loved the grilled tilapia, stuffed with lemongrass and encrusted with salt on the outside, and the tom yum ramen. At Lhong Ma Lhao restaurant in Bangkok's Chinatown, I had the best spring rolls I've ever had, and probably will ever have.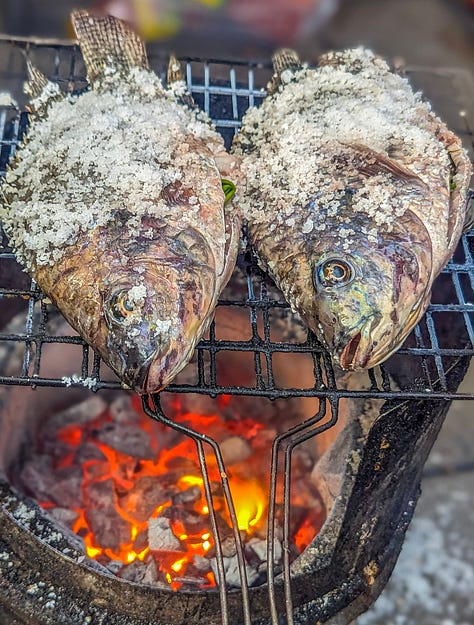 But I was still mostly wandering blind. I knew if I wanted to know more about Thai cuisine, I would need guidance.
At my urging, Michael signed us up for A Chef's Tour, a company here in Bangkok that does various food tasting tours, taking small groups to taste selections at different local restaurants and street food vendors.
We chose the "lunch" tour, which we knew included at least sixteen different food items — sticky rice with taro, black pepper soup, various noodle dishes, roast pork and duck, and a whole selection of curries, not to mention various drinks, fruits, and desserts.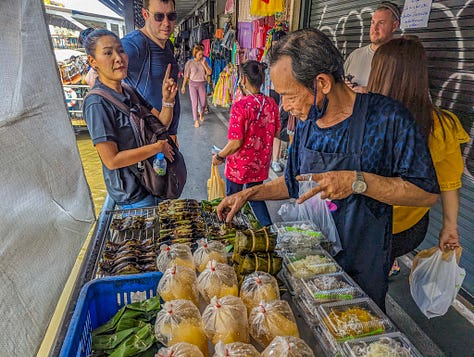 Ani, our congenial, keen-eyed guide, offered nuggets of information along the way — how Thai limes are sweeter than the ones Westerners are used to, and the garlic is milder too. But the chilies? Stand back.
Thai cooking was influenced by the cooking styles of the Chinese, she said, with lots of stir-frying, and the curries originally came from India. But many of the most important ingredients of current Thai cooking — chilies, papaya, pineapple, and even coconut milk — came with the arrival of the Portuguese and Spanish from the fifteenth century onward.
At one point, Ani said, "Thai cooking has a lot more sugar than you might think. Most dishes have all four 'tastes' — sweet, salty, sour, and bitter."
I was eating when she said this, and it was like a lightbulb went off over my head. Sure enough, I could literally make out each individual taste.
The sweet comes from various fruits and sugars, and the saltiness is the result of salt or fish sauce. Meanwhile, the sourness comes from limes, rice vinegar, lemongrass, and tamarind, which is often turned into a paste. And the bitterness comes from spices — ginger, garlic, curries, those insanely hot chilies, and something called a "bitter bean," which I'd seen all over town.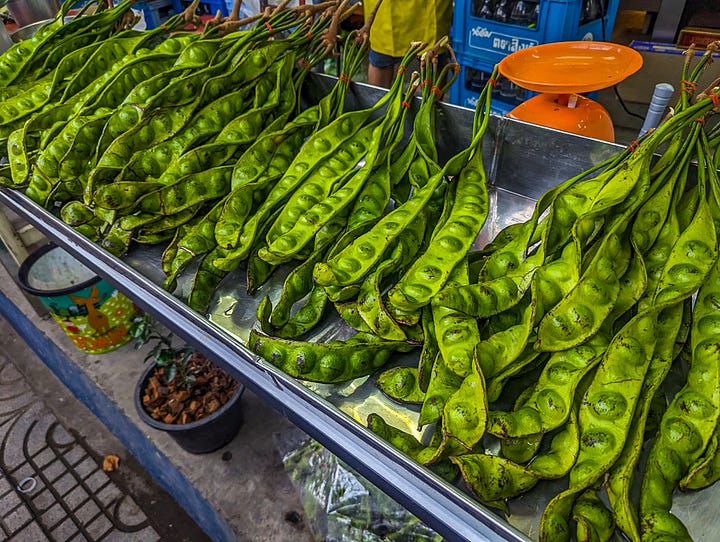 Some people say there are other specific flavors in Thai cooking — another being creaminess, from coconut milk. And I remembered a recent article I'd written about mushrooms, and how I learned about another basic taste, umami, which is found in mushrooms, yes, but also in fermented sauces like fish sauce.
Either way, there was clearly a lot going on in Thai cooking. And Ani explained how all these "tastes" were carefully balanced in such a way that made the whole dish make sense, like the notes in a complicated but harmonious chord of music.
A Chef's Tour explores Thai cooking, but also makes a point to highlight small, local vendors. Ani had a story for each stop on our tasting tour — how the sticky rice vendor put his children through college cooking and selling his simple grab-and-go snacks seven days a week, and how one restaurant had opened back in the 30s, after the Thai king had declared that his subjects should be allowed to taste the excellent cooking of his palace chef.
We stopped at a place in one market where an elderly woman had been making mangbeen crepes for decades from a recipe handed down from her mother.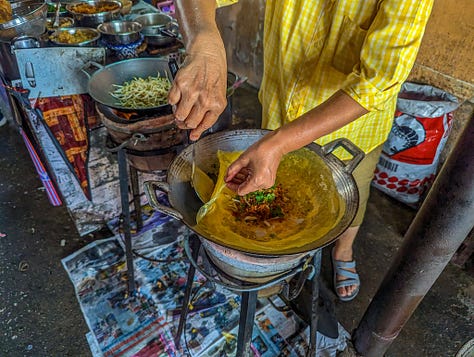 But it reminded me of crepes we'd had in Vietnam, and when I mentioned it, Ani told me that that's exactly where the recipe originated.
"The Thai love the food of other cultures," she said. "We always cook with an open mind and an open heart."
Thailand was famously never colonized by the French, British, or any other world power, in part because of the deft diplomacy of Rama V, the 19th century king of the land then known as Siam. He also brought the fork and spoon back from his trips to British-controlled Singapore, and he popularized their use throughout the country. Prior to this, Thai food was generally eaten with the hands.
A few dishes, like sticky rice, are still eaten by hand.
But interestingly, Thailand's primary eating utensil is now the spoon, not the fork. Unlike most Asian countries, chopsticks are fairly rare, but when you do see them, it's not unusual to see Thai people using the chopsticks to put the food into their spoon, which is generally held in the right hand.
Ani went on to talk about the variety of Thai cooking within Thailand. The country has at least five different cooking "regions," each with their own traditions. The south, where Ani is from, is home to spicier dishes, and also more cooking involving seafood and coconut milk.
Meanwhile, the food up north is milder. This area is where many of Thailand's famous curries originated, including massaman curry. Chiang Mai was once a stop on the Silk Road, welcoming travelers from nearby India and beyond, and they brought with them the spices of these other lands.
Massaman is a sweet curry, but Ani explained how it includes a head-spinning array of spices from throughout the Middle and Far East — cardamom, cloves, star anise, cumin, cinnamon, bay leaves, nutmeg, and mace. But it also includes more traditional Thai flavors like chilis, coriander, lemongrass, white pepper, galangal, garlic, and shrimp paste.
But, Ani said, even within Thailand's different culinary regions and traditions, the way dishes are cooked varies widely. "Everyone has their own recipe for everything," she said with a laugh.
The one place in Thailand where you can get anything and everything?
"Oh, Bangkok has it all!" she said. "When it comes to food, everything comes together in this city."
My head was buzzing. Thai cuisine seemed like such a fantastic mix of tradition and innovation.
I said earlier that I love authentic Mexican cooking, but it doesn't seem as varied as Thai cuisine. I love Italian cooking too, but chefs there take themselves a bit too seriously. When it comes to cuisines, Italy is the hot guy who knows he's hot.
Thai people also know their food is great — how could they not? — and they're very happy to share, but they're less concerned with impressing you. They're much more humble.
So was this humility — along with all the tradition and innovation — the "secret" to Thai cooking?
I was definitely on the right track, but it still seemed like there was more to learn. There was something I was missing, something right in front of my face.
My quest wasn't over yet.
Ready for the answer? Here's My Quest for the Secret of Thai Cuisine, Part Two!
---
The above links to A Chef's Tour are affiliate links, but we are editorially independent and this did not affect our opinion of their operation. If you're in Bangkok, we do strongly recommend the company.
---
Brent Hartinger is a screenwriter and author. Check out my new newsletter about my books and movies at www.BrentHartinger.com.